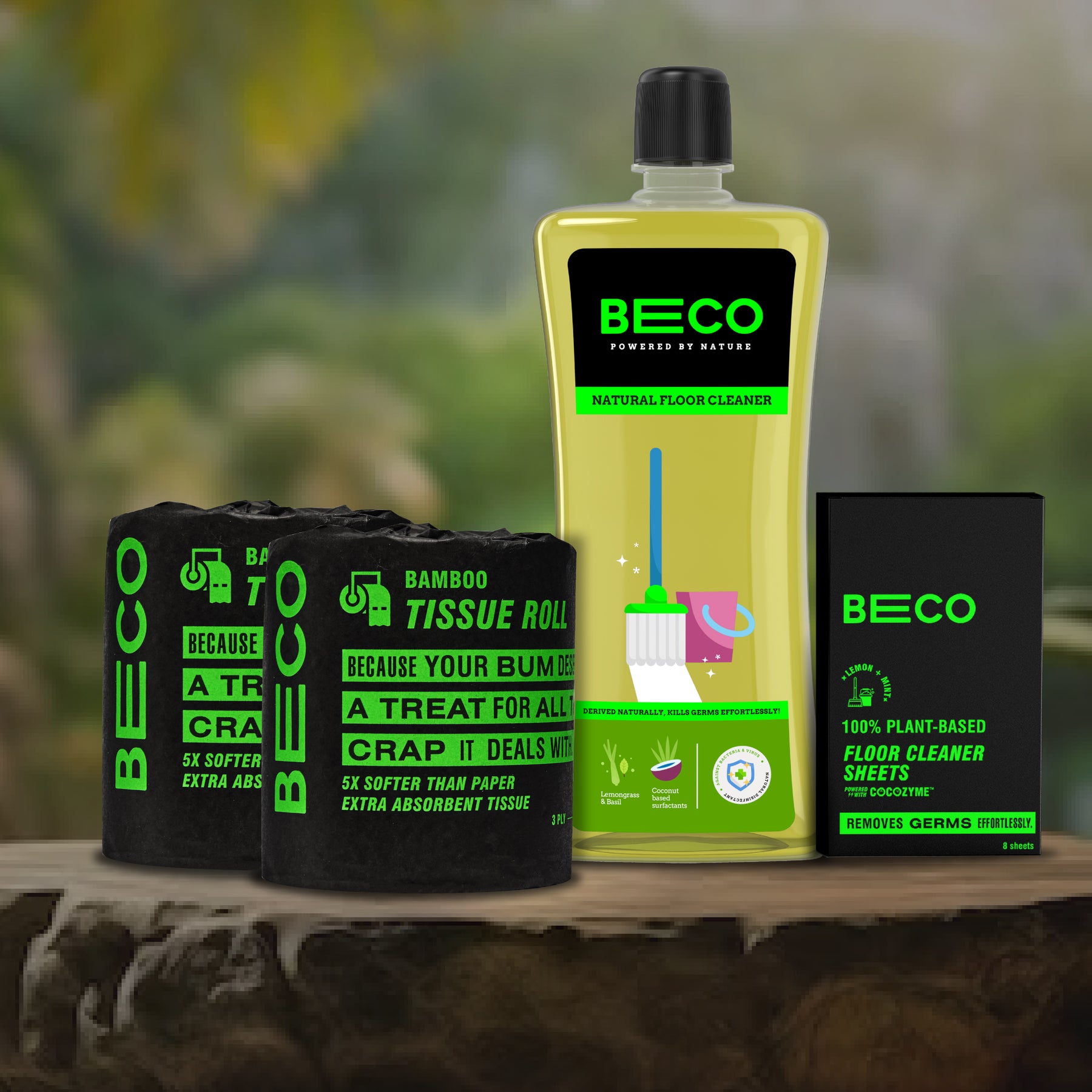 Floor combo
FLOOR CLEANER LIQUIDS & SHEETS 100% plant-based & eco-friendly Kills germs and bacteria Leaves no toxic chemical residue behind Cleans your house with no harsh chemicals TISSUE ROLLS It is unbleached & chlorine free Clog-free and safe for all disposal systems Safe for sensitive skin Give this combo a try and become a fan forever! We could go but do you really need more?
Looking to switch your floor cleaning routine? This combo is for you!

Let me tell you what it includes

Floor cleaner sheets (1)
Floor cleaner liquids (1)
Tissue rolls (1)

Floor Cleaner Sheets - Drop it & Mop it! Our floor cleaning sheets work better than your average floor cleaners without the hassle of measuring! They are 100% toxin-free, easy to use, and deep cleans every nook and corner of your beautiful home with no harsh chemicals. The nasty chemicals, the stains, the dirt. You name it, we can clean it. It's a piece of sheet like no other ;)

Give our trial pack of 3 a try and become a fan forever!

Floor Cleaner Liquid -

Derived Naturally, Kills Germs Effortlessly. It's a promise from us to you.

Our newly launched floor cleaner liquid is derived from natural ingredients.
Coconut & Plant Based Formula = Beco Floor cleaning liquid That's it, nothing less, nothing more! That's the formula of our new, natural floor cleaner liquid! It's cool to have a squeaky clean floor without chemicals at all times!

It has the pleasant and soothing fragrance of Basil and Lemongrass.

It has no harmful chemicals like SLES, sulphates or phosphates, or any other harmful chemicals making Beco's natural floor cleaner liquid a safer choice for your floor and for the environment.

Tissue Rolls

Regular toilet papers are coarse and could possibly give you microscopic cuts! Beco tissue rolls are made from 100% organic bamboo pulp, are clog free, unbleached & chlorine free! It is your best buddy in crappy situations!